Race Date
Our 20th annual race will be held on Saturday, October 29, 2022. The race starts at TBD. Day of race check-in and registration will take place from TBD.
Race Location
The race starts and ends at The Clark Sports Center, 124 County Highway 52, Cooperstown, NY, 13326. It is a moderately difficult course that travels the roads in the Village of Cooperstown. The 5k race will travel the course once, while the 10k will travel the course two times and conclude at The Clark Sports Center.
Race Map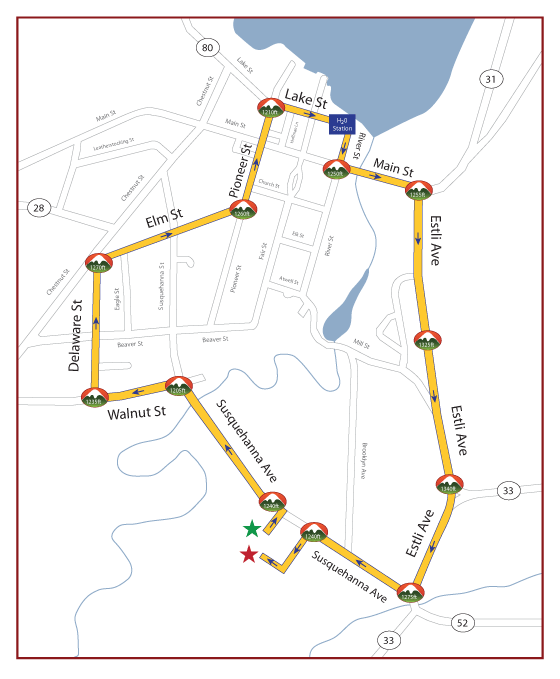 Race Cost
5k • Registration on, or before, October 28: $20, October 29: $30.
10k • Registration on, or before, October 28: $25, October 29: $35.
Family • $50 family entry fee. 5 people max, all children must be 18 or under. Individual registrations must be completed for each member. (Family registration is not available on race day).
Race Registration
Runners may pre-register online, at the Fitness Center Desk or by mail. Registration is available at The Clark Sports Center on the day of the race. Pre-registered runners may pick up their race bags in our Main Lobby starting at 11:30am. Runners who register on the day of the race may also do so in the Main Lobby starting at 11:30am.
Race Waiver Form
All runners must have a Clark Sports Center waiver form on file. Children 18 and under must have this waiver signed by a parent. Waivers will be available on at the race or can be downloaded and printed from our site.
Race Awards
Awards will be distributed to the overall best male and female times, and awards will be given to the top three male and female finishers in each age group. Awards will be presented for the following categories:
Under 8 years old;
9–13 years old;
14–17 years old;
18–20 years old;
21–68 years old;
69 and above.
The Awards Ceremony will take place outside (in case of poor weather, the awards will be presented inside the Sports Center in the Main Lobby).
Other Info
Early bag pick up at the Sports Center on Friday, October 29, 12:00–5:00pm.
The race is a rain or shine event.
A water stop will be placed near the half way mark and at the end.
Please note that traffic will be allowed on the streets and we will staff each major intersection.
Please avoid personal listening devices.
Costume Contest
Prizes will be awarded for kids and adults the following categories:
Scariest
Funniest
Best Group
Most Creative
Best Overall
Race Records
Female: 10k • Caitlin Miosek • 43:12 • 2016
Female: 5k • Samantha Fanion • 19:41 • 2012
Male: 10k • Tim Van Orden • 33:44 • 2015
Male: 5k • Josh Edmonds • 15:24 • 2011