Race Date
Our 7th annual race will be held on Saturday, May 26, 2018. The race starts at 9:00am. Day of race check-in and registration will take place from 7:30-8:30am.
The Hall of Fame's newest hit is embarking on an extended "run" in Cooperstown, and this year, the popular BASE Race is returning to Memorial Day Weekend, as part of Hall of Fame Classic Weekend festivities.   The race events benefit the Museum's "Be A Superior Example" program promoting healthy lifestyle choices for individuals of all ages.
Fans are encouraged to support their favorite major league team as part of the 2018 BASE Race, as selected former major league players will be a part of the race activities, as the lead-off event to a full day of programming for the Hall of Fame Classic on May 26.
The BASE Race will be part of the Hall of Fame Classic during Memorial Day Weekend. Six Hall of Fame legends will be joined by a roster of more than three dozen former major league players for a seven-inning legends game on Saturday, May 26 at Cooperstown's historic Doubleday Field. The 2018 Hall of Fame Classic is presented by Ford Motor Company.
Proceeds from the BASE Race support outreach for BASE, the Hall of Fame's newest educational initiative which promotes the concepts of healthy lifestyle choices to a worldwide audience, educating students about the dangers of performance-enhancing substances. Complete information of the BASE program is available through a comprehensive white paper, featuring detailed data on the use of performance-enhancing substances and the fundraising objectives of the National Baseball Hall of Fame and Museum, online.
Race Location
The National Baseball Hall of Fame and Museum, along with Cooperstown's Clark Sports Center, will present the seventh annual BASE Race – a 5k fun run/walk and competitive 10k events – starting and ending at historic Doubleday Field and featuring courses that wind through scenic Cooperstown and along the warning track of the historic ballpark.
Race Map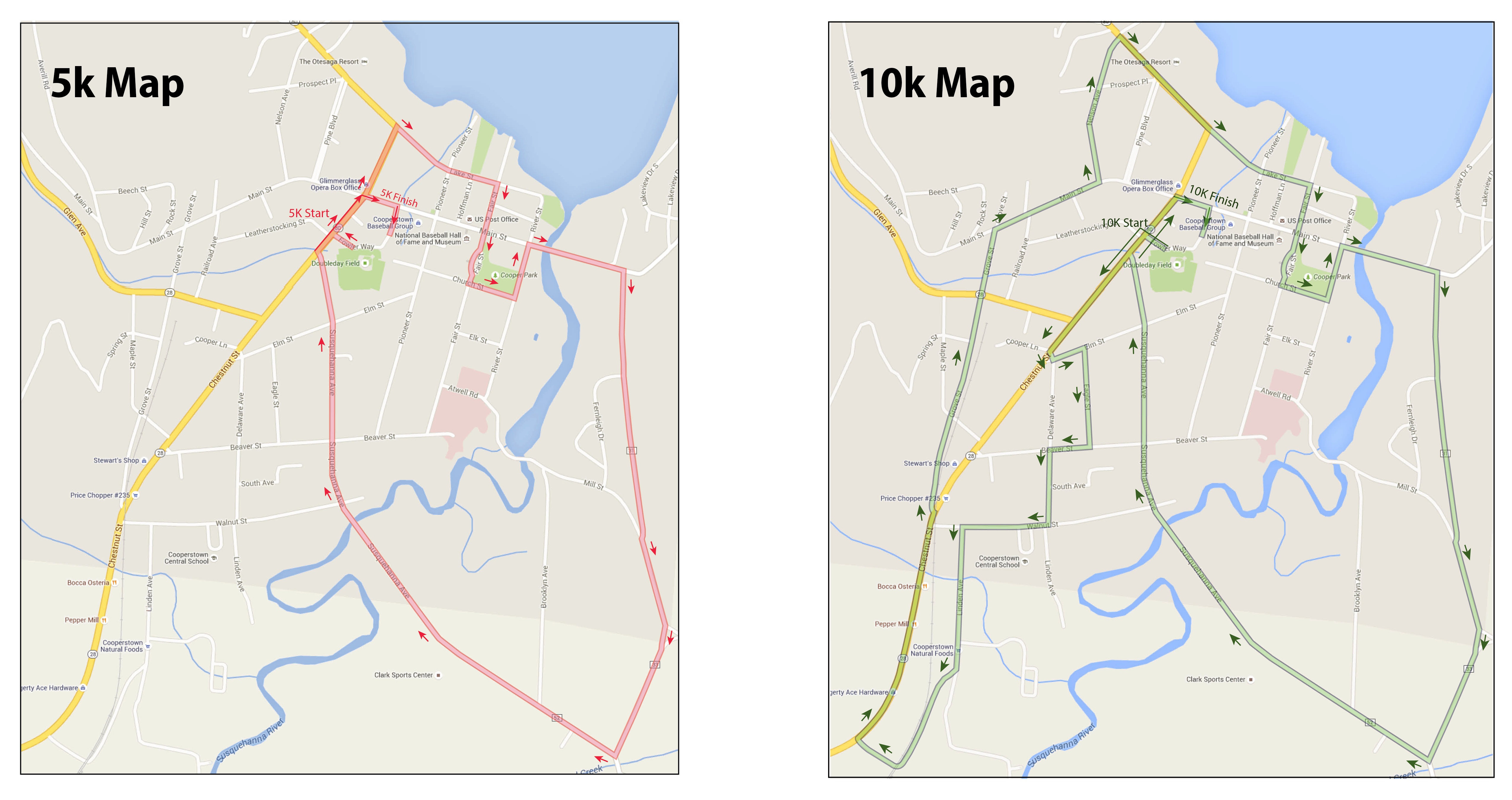 Race Cost
Register online. Registration for the 2018 BASE Race is $25 and $55 for families. Each registered runner will receive a participation medal (for the first 300 runners to register), goodie bag, a free general admission ticket to the Hall of Fame Classic valid on May 26. On race day, registration will be open until 8:30am and $30 for individuals/$65 for families. Additional details are available by calling the National Baseball Hall of Fame and Museum at 607-547-0329.
Race Registration
Race Awards
Bats from the Cooperstown Bat Company will be awarded for the overall male and female for both the 5K and 10K race as well as for the top three male and female participants in the following age groups: 13 and under, 14-19, 20-29, 30-39, 40-49, 50-59, 60+.